Sweet, Sweet Boy.
If I could use just one phrase to describe Aiden, that would be it. He is SO sweet. So loving. SOOOO polite. He's just SWEET! Aside from the terrible two's hitting, that is :)
Some things we love that Aiden does at this age:
- Run up to us and say "HI MOM!" or "HI DAD!" like every five minutes. Every time he sees us, he can't help but say hi enthusiastically
-dragging his blanket around EVERYWHERE
-Says "uh oh" and "oh dear" a lot; also says "uh-oh yeh-yo" which is "uh oh, spaghetti-o!"
-likes to sing
-Can recognize all the letters in the alphabet, and knows about half their sounds
-Can count to ten!
-LOVES slides...the bigger the better :)
-Loves to explore
-Loves rocks and making piles of rocks
-Loves seeing stop signs
-Every time we drive up to our house, he shouts "we're home!"
(I'll have to come back and keep adding as I think of things throughout the week)
Favorites:
Food: pizza, oranges, yogurt
Game: red light, green light
Toy: train table....he can sit and play independently with that thing for an hour at a time. He loves it :)
Song: Old McDonald, I Am a Child of God, several of the jingles from Daniel Tiger, Twinkle Twinke Little Star
Things: bulldozers/construction equipment, trains, dinosaurs, balls, slides, reading,
Animals: zebras and monkeys
(he makes this face a lot )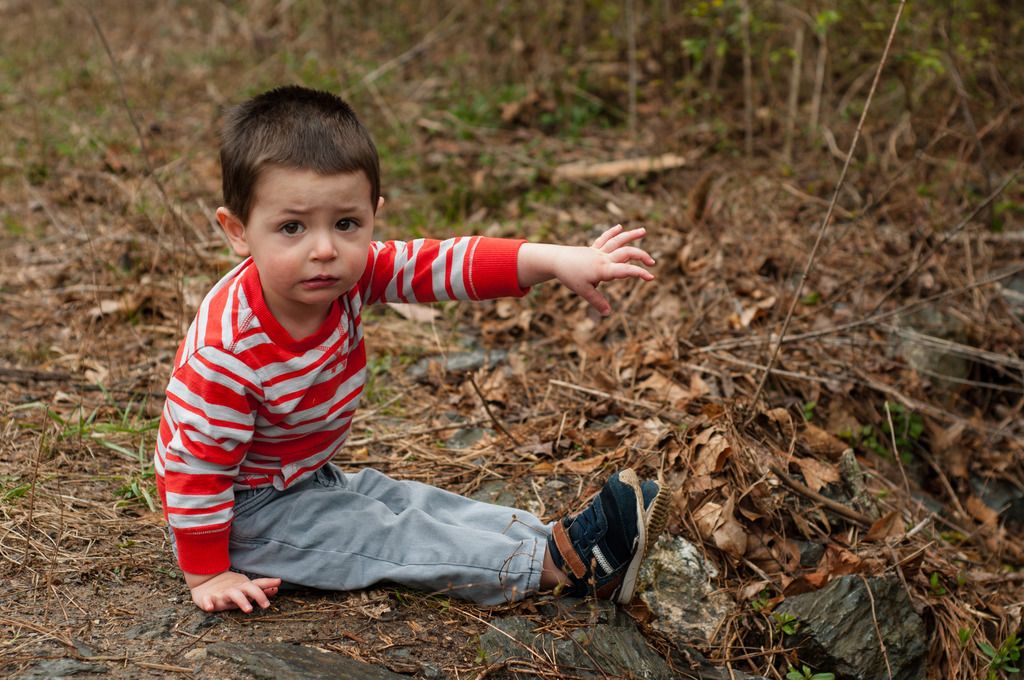 Stats:
Length: 36 1/2 inches (89th percentile)
Weight: 28 lbs 3 oz (51st percentile)
Head: 49 cm (57th percentile)
( a boy and his rocks)
For his two year post, I wanted to take some good "2 Year Old" pictures of him. I was really good at doing these regular picture/stat update posts with Ellie but I've been sadly lacking with Aiden, so I figured I at least needed to get a good one in at 2. Well, it took us several weeks to find a time we could take him out and do pictures, but finally we found a day! Yesterday we went on a walk at this trail near our house, and I decided it would be a perfect time to do them. The trail is near the Chattahoochee river, and we found a little side trail that went over towards the river. We took it and found the AWESOME little spot off the river where the kids could play in the sand and water. At first I was trying to keep him clean, then thanks to Ben's reminding realized that a messy boy playing in the water was actually PERFECT for his 2 year old pictures, because that's pretty much who he is right now! He LOVES water. He always has, he just gravitates towards it when we're anywhere out exploring. He got ridiculously dirty, but had loads of fun and then we cut our walk short so we could take the boy home and get him some new clothes :)
Haha, so glad I got this picture. When he's upset about something he usually takes himself to a corner and cries. It's sad and adorable. He also does this little squat/sit and mope sometimes and again , sad but adorable :) In this case, mom wouldn't let him touch the thorny bush, how mean!
He also will hang his head as he walks towards his corner, as demonstrated in this one
The cool spot we found on the river
Stomping in the puddles
The back middle of his hair grows WAY faster than the rest, so he always has a little tail :) This is even after a pretty recent cut, it just grows so fast!
Another thing he says a lot "Right thew!"
His hands, they're chubby but oh-so-delicate all the time!
At first he was sitting on the log next the the water with his feet in, soon he just sat right down in the water
As I took this picture, he was saying "uh oh yeh-yo"
He says "Red light!" and puts his hand up every time he wants someone to stop something.
And these last two pictures sum the little man up perfectly.
He's sweet, sweet, sweet.
But, he's also two :)
We see this little grumpy face a lot.
Love this little man!