Ellie.
Oh our Ellie Bean!
We love this little sweet, unique, passionate, happy, determined, silly, intelligent, creative little soul!
Ellie at this age:
Favorites:
Things to do: play dolls, twirl, tease mom and dad, read ( Little Critter, If you give a Mouse a Cookie, I Spy type books, Bernstein Bears, Chrysanthemum) . She loves to craft with mom. Recently, we've been making a zoo full of toilet paper animals, making paper mache bowls, and painting/coloring anything and everything. She loves exploring outside. She loves puzzles.
She also LOVES being out and about and would prefer to be out all the time if she could. Even after long days of running errands or tiring days of adventuring, as soon as we get back in the car she'll immediately say " I want to do momo (one more) thing. I want to go to momo place."
She loves to play doctor and invite people into her office for a checkups. She carries her stethoscope on her hips and delights in giving people shots that "hurt just a little bit". She thinks giving shots is hilarious :)
She loves to make-believe. The other day Ben was watching her play with her dolls and she was pretending that a babysitter was watching her. She had three dolls; herself, the babysitter, and me. Apparently, I told her to we were going out and would be back, then she said "Okay, bye mom" and chucked me (the doll) across the room. It made Ben and I chuckle :) Apparently we aren't missed much when we go out :)
Movies/Shows: Sofia, Daniel Tiger, Veggie Tales, Rio, Frozen, Tangled and Nemo.
Toys: Dolls, stickers, blocks, puzzles, books, train table, dress up items (her tutu, fairy wings, apron and cape especially)
Color: Pink. In every shade on everything, she LOVES pink.
Song: I am a Child of God, Daniel Tiger jingles, and Happy Birthday. She loves to sing Happy Birthday, and she sings it like this: "Happy birthday to all of us, happy birthday to all of us, happy birthday to all of us, happy birthday to all of us." Silly girl.
Foods: If you ask her, she says, "Everything is my favorite food" but that's just not true. I'd say her favorites are pizza, smoothie, "sketty", nachos, cucumbers and carrots with ranch.
Phrases/Words:
"Why not?" - She asks this to almost everything you say these days.
I wuhwuh woo- I love you
probably, just- She uses one of these words in almost every sentence.
Thank you momma bear. - I have no idea why, but the other day she just started saying this. It's the sweetest thing. Anytime I give her something, or help her with something, or give her a compliment, she says so sincerely "Tay-too momma bear"
"Mom, you are my baby girl and Dad is my Jelly Bean"
"That is a/not a good idea!" Everything I say these days either gets validated or rejected. It's pretty funny. The other night I told her I was going to put Aiden to bed and then it was her turn. She promptly said, "Mom, that is NOT a good idea."
"The Amen"- AT the end of prayers, instead of simply saying "Amen" she says "The amen". A combination of amen and the end. We've talked to her many times about how she only needs to say anem, and how the end is for books, but she doesn't care. For her, it's "The Amen." Pretty funny and adorable.
Ellie has speech difficulties, and definitely has a way of pronouncing things that's all her own. She's pretty darn hard to understand, but it's also pretty darn cute how she says things.
Other things:
Ellie has freckles now! I love it. She has a few little cute ones on her nose and several on her cheeks. They're stinking cute.
She loves to cook(still). I mean REALLY loves it. Muffins are (still) her favorite. She loves making muffins and taking them to her friends. She also loves making strawberry pancakes and cookies.
Finally, after potty training three times, it stuck for longer than a month. Ellie is potty trained! In all fairness, the other times we potty trained we were going through some pretty big changes and it made sense that after being trained for a month or so, she would revert.
The other day I was cutting a grilled cheese sandwich (really tough right?) And Ellie pounds her fist on her hand and says " U your muh muh mom!" (Use your muscles mom!). The way she said it was rather hilarious, she sounded like a drill sargent. Silly miss.
When she's tired or upset , she gets mad at Aiden for EVERYTHING. Baby don't talk. Baby don't growl. Baby don't sneeze. Baby don't touch. Baby don't move. Baby don't eat macaroni. SILLY!
Her logical thinking is REALLY impressive. More and more we find her reasoning things out and cleverly problem solving.
The other day we went to the grocery store and her cute little logic made me smile. We were going to Aldi. Aldi is a great little store with great prices and a few things about it that are different than the grocery stores I'm used to. One of those little things is that you have to pay a quarter to get a cart. Another thing is that they don't have bags when you check out, so after you check out you take your cart over to the counter and load it into a box so you can take it out. Well, we always have a quarter in the little compartments between our seats, so I never think about taking one because there's always one in the car. This day, however, I had Ben's mom's car. Right before I got to Aldi, I thought "Darn! I don't have a quarter." I was stopped, so I started looking for a quarter in the car. Ellie asked me what I was doing. I told her I was looking for a quarter. Then the conversation went like this:
"Mom, you don't need a quarter."
"Yes, I do. I need a quarter so we can get a cart at Aldi."
She paused and then said,
"Mom, you don't need a cart because I can walk and you can use a box."
I was so proud of her little problem solving skills!
Every morning she wakes up early to have breakfast with Ben before he leaves for work and every day she is awake, she is SO excited when he comes home!
She misses our "red" house (our old house had a red door). She loves to hang up on people. She loves to play I SPY. She loves wearing dresses and earrings. She hates having her hair brushed. She LOVES nursery. She is super ticklish. She loves flowers and picks them everywhere she's allowed. She loves to run around with a cape on yelling "Super Ellie!" (pronounced youp-youp yeh yeh). When she is in her "Super Ellie" mode, she will walk around talking in the third person. Super Ellie is hungry. Super Ellie needs to go potty. It's great.
Some of this stuff is old news, but I haven't posted in a while about her and want to remember it!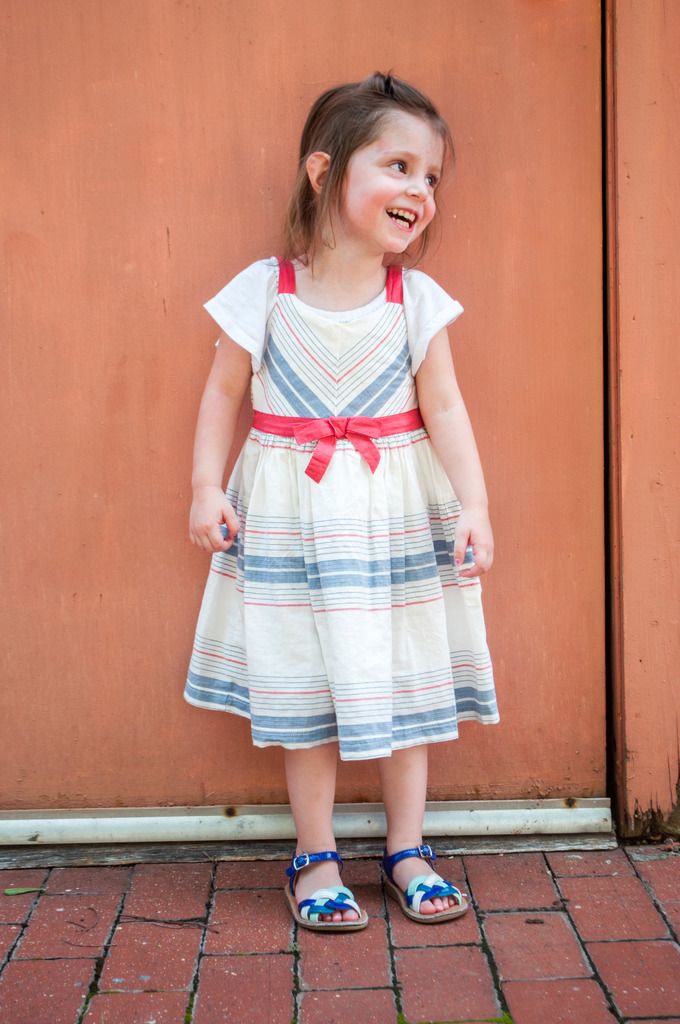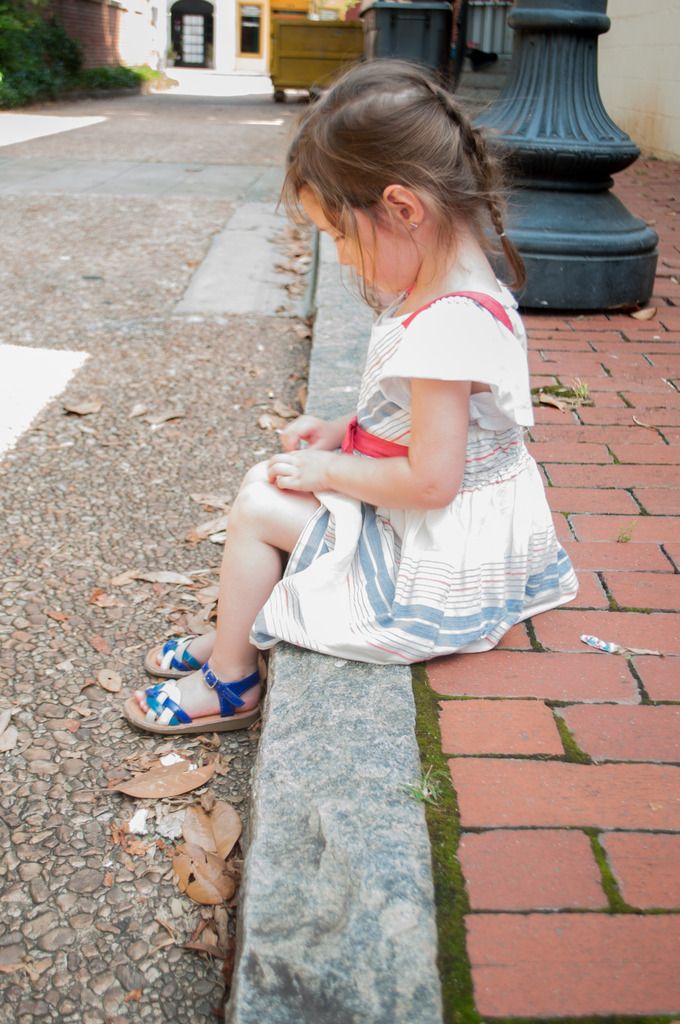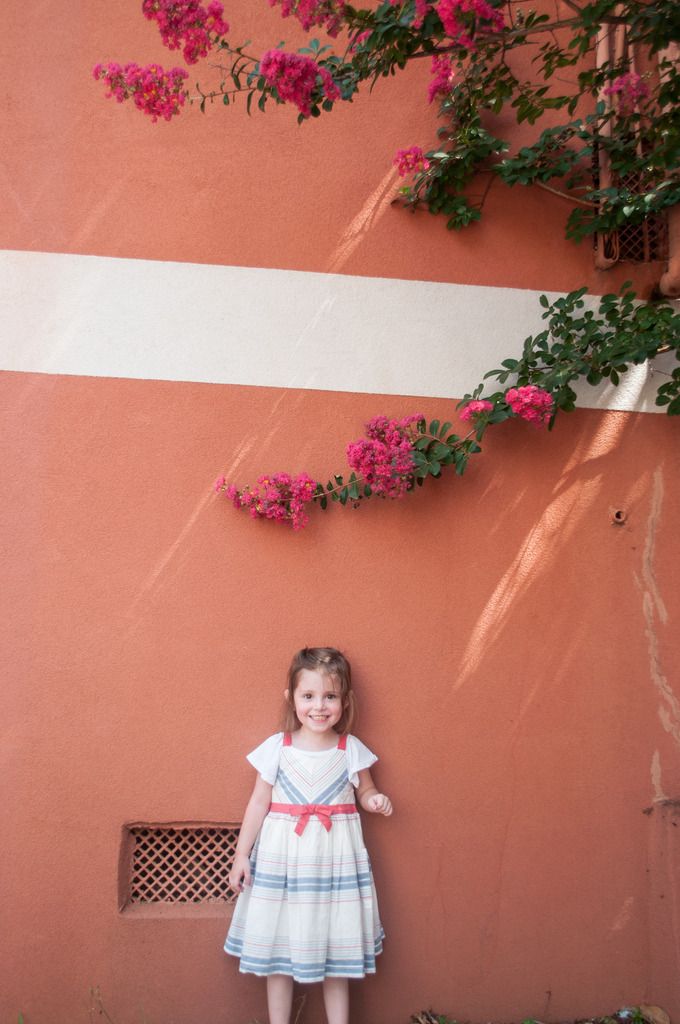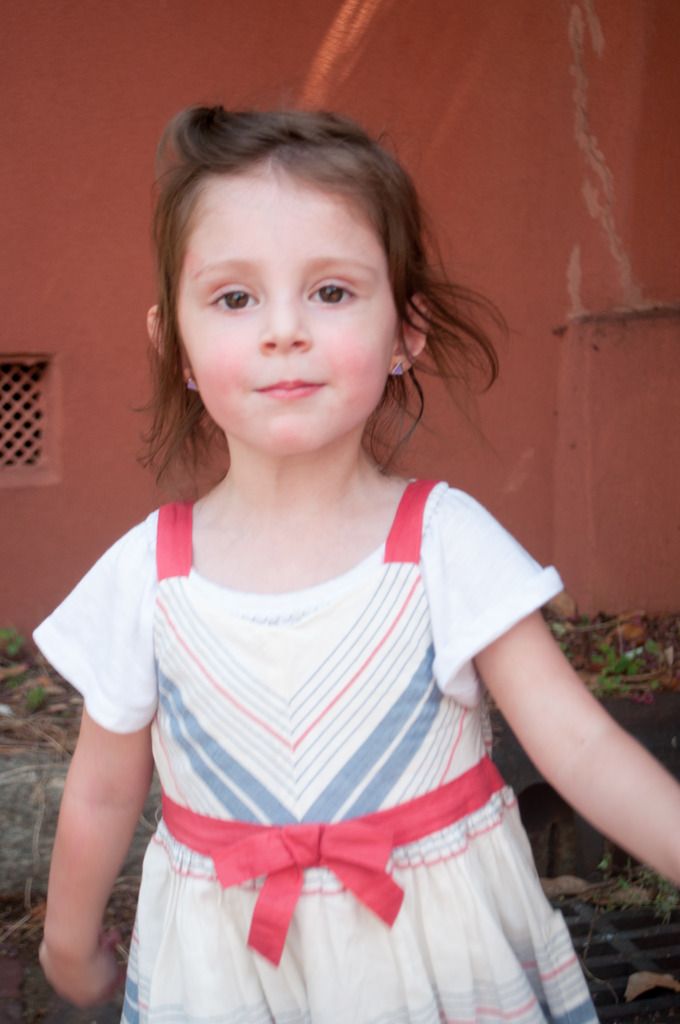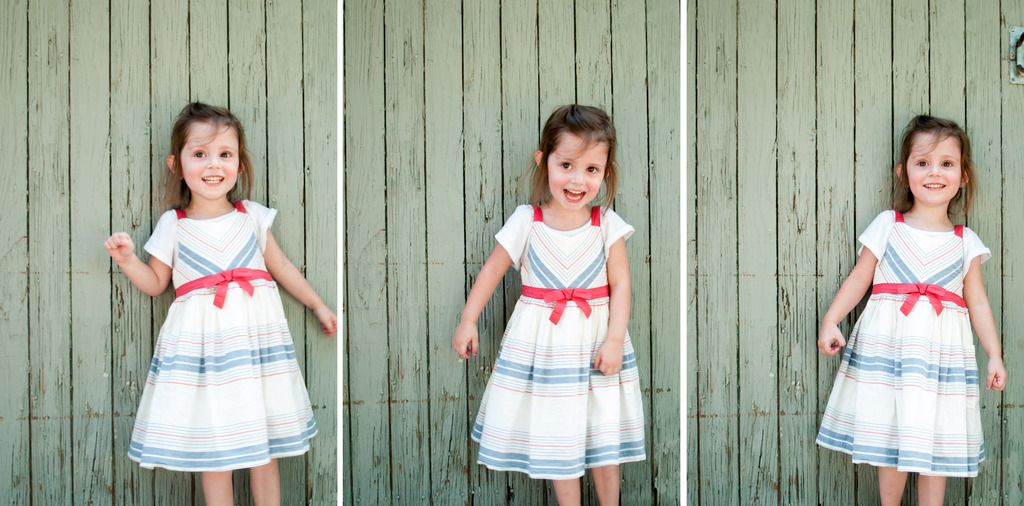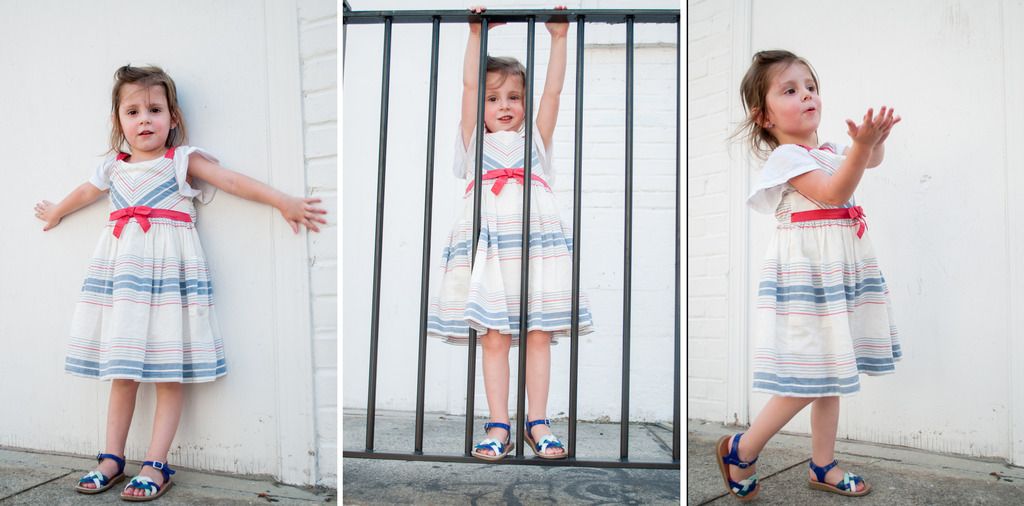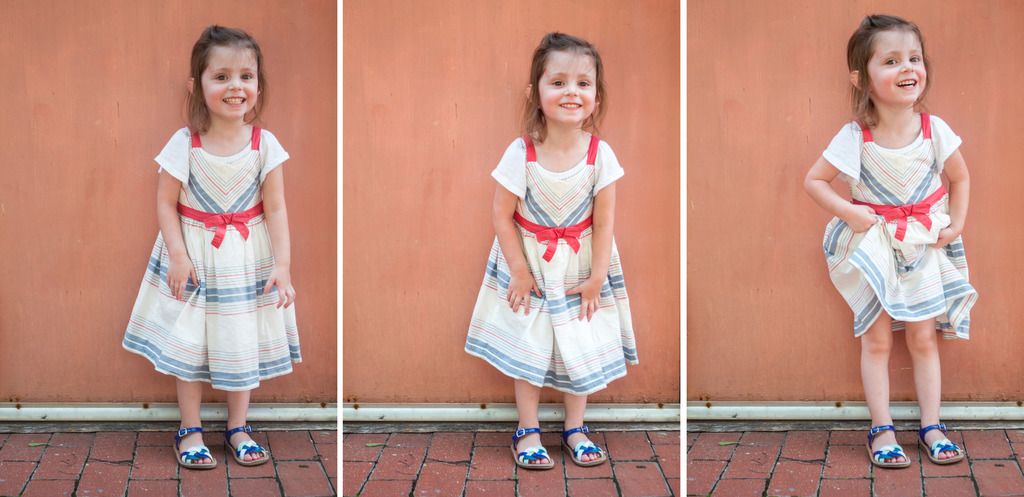 Ellie, we love you and that happy, silly, BEAUTIFUL, JOYFUL smile.