Yesterday, my friend Selina was in town from DC for a week before she moves to Vietnam for a year (or more!). We got our group of friends (minus 2 who are in California) together and headed up Big Cottonwood Canyon to Silver Lake to have a picnic. At first we didn't know if we were going to be able to go because of the weather yesterday, but it stopped raining and looked like it was starting to clear up before we were scheduled to meet, so we decided to go for it, and I'm so glad we did! It was GORGEOUS! The weather was nice and cool, it was overcast for a while and then the sun came out. Perfect day to be up the canyon. So much more comfortable then the scorching hot sun! Plus, because of all the rain, the colors were SO vibrant! It was crazy green!
We got there a bit before everyone, so she spent 20 minutes or so chasing a squirrel around and I spent 20 minutes chasing her around trying to take pictures with my phone
Since I was carrying Aiden and only had one hand to take pictures, a bunch ended up blurry which is so sad! Here are a few of my favorite blurry ones.
She loved this log, and spent a good deal of time just sitting on it.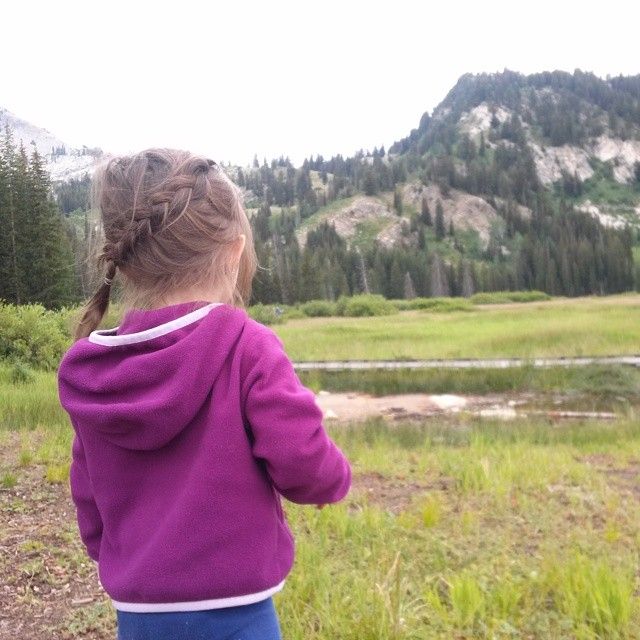 The crews arrived! (and from here on are the non-phone pics)
The three littles had a fun time just running around while we picnicked
Jenelle and little Miss Lilly
She's off! She LOVED running these boardwalks.
We tried so hard to get them all to sit! But as SOON as we got them, the two boys climbed down
Love this picture :)
such great faces from all of them
I loved this one of Ellie, but it was MAJORLY overexposed, so turning it black and white was the only way I could save it.
And one last one of the group from Selina's phone