So usually around the holidays, I tend to not blog for a while, and then catch up later. Not this holiday! I'm determined to be dilligent in documenting our holiday season. Starting with this week. We haven't done a ton of super "holiday-ey" things yet, but we did have a busy week spent with friends and family, and some of it was holiday-ish, so here goes!
Starting last weekend, Ben had a closing ballroom social that we went to. They do them after every semsester, and they're fun to go to because they're fancy! You get all dressed up in a snazzy dress/tux and there's a nice dinner, a program, and then dancing. The ones in December are always all decked out for Christmas, and they usually have a live band playing for the dancing part. It's all sorts of fun :) Somehow, I neglected to take a picture :(
Let's see moving on, last Monday for FHE we got our Christmas tree!! It's a live 6 foot beauty and my favorite part about it is how it smells! I love fresh trees! We actually weren't going to get one, but Ben's parents decided to give us one as a Christmas gift. They have this cool tradition where they each year, they get the kids 3 gifts; a gift of gold, a gift of frankenscence, and a gift of myrrh. The gift of gold is their big, fun present for the year, and I always mix up the frankensence and myrrh, but one is a spiritual gift and one is a gift of comfort. For example, last year our gift of gold was tickets to Georgia, the spiritual gift was a ceramic figurine of the Salt Lake Temple that was actually on top of our cake at our reception in Georgia, and for the gift of comfort we got cozy pajamas :) Isn't that an awesome tradition?! Anyway, so this year the tree was our gift of comfort. We went to one tree lot to look and were super dissapointed, so we went to Lowe's where we knew they had them for a good price and low and behold, we found a BEAUTIFUL tree! It's full and nicely shaped and is pretty much the perfect tree :). We brought it home, wrapped it up in lights, and now it serves as a wonderful Christmas addition to our home. Did I mention it smells like heaven? LOVE IT!
Here's our tree, this is before we decorated it.
This is a crummy picture, because it's from my phone, but here it is with the lights and star.
Moving on, Friday I had a wonderful suprise! My dearest husband came home and suprised me with a beautiful floral arrangement! It had a card in it asking me out on a date :)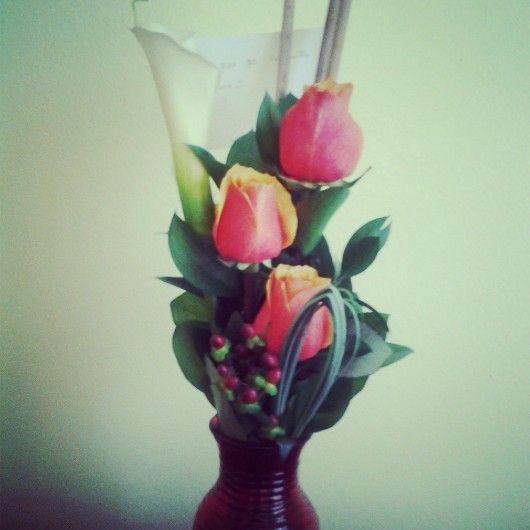 Our anniversary is actually tomorrow (3 years!!!! I can't believe it!) but because it's finals week and it's going to be a crazy day, he took me on our anniversary date early. First we went out to dinner at Carraba's, this divine italian restaurant, then we went shopping at one of my favorite decor places for a christmas decoration to add to what we have (side note, we decided to add one decoration a year to our stash and build it up slowly, and we make a date out of shopping for it every year. It makes for a great date! This year our new decoration was a star for our tree) and then we stopped by our favorite frozen yogurt shop for a yummy dessert. Perfect evening :)
Saturday was a great day too! We carried out another tradition on Saturday, although we changed it up a bit :) All growing up my family had this tradition of going to Winder Dariy (just a little dairy near my parents house) and having scones and hot chocolate during the holiday season. Well......in the last few years Winder Dairy's scones and hot chocolate have become a bit more popular, and our family has gotten a good deal larger, and getting us all in that overly crowded tiny little dairy doens't really work anymore. As a result, we adjusted and decided to make our own scones and hot chocolate! Everyone came down to our house, and we had a grand old time! We have this great scone recipe, and a heavenly homemade honey butter recipe and so we put them to good use. Along with Steven's hot chocolate, it made the perfect cozy holiday dinner. It was really great to have everyone over and continue our longstanding tradition :) There was also a little present exchanging going on, mostly from my aunt Kim because we won't see her and her family on Christmas Day. The only thing I really took pictures of was Ellie and Ethan opening their presents, so here they are!
Coloring with her new, only-writes-on-paper marker. Thanks Kim!
Sully helping Ethan assemble his present
Oh, and the remenants of our yummy dinner!
Then came Sunday. My old roommate and her husband (Kelly and Josh) invited us over to their new house for dinner, and it made for a wonderful evening! We hadn't seen them in far too long, and it was great just to spend time with them and their little guy who is just a month older than Ellie. We had a delicious dinner, then started playing games. Right as we were pulling them out, the little ones both crashed (luckily we had brought Ellie's portable crib, so we were able to just let her sleep in a spare room), and we were able to enjoy a kid-free evening just talking, playing games, and enjoying ourselves.
Today was the start of finals for Ben, so Ellie spent the Monday just about like we always do (going to book club/play date) and we also went to the library and spent some time playing with the toys in the children's book area. It's great, they have the children's books in a whole seperate area accross the hall from the normal library and they have a big story time ampitheatre, kids tables with toys, interactive computer for small children, and plenty of cozy reading areas to just curl up and read together. We tried to read some Christmas books, but Ellie was just not in the mood for sitting and reading, so we ended up mostly playing with the toys. While we did that, Ben knocked out a final. One down, three to go!
Guess that's it for this last week, more updates coming next week!